One afternoon, I received a call from the Institute of Societal Advancement (ISA), Trivandrum, Kerala. They had noticed the article Money from Angel which was featured in Mathrubhumi Newspaper, an esteemed media in Kerala. He requested me to visit some agricultural work in one of the tribal belts of Kerala – Attappadi. I was not familiar with the place, but his explanations made me curious about the whole thing in no time.
Attappadi is a few hours away from Coimbatore [Tamil Nadu] and planning a visit was not so difficult. There were no second thoughts about my company, Sriram Sankaran [Nativelead, Coimbatore chapter] and P.K.Gopalakrishnan (Malabar Angels). Pradeep of FarmerFZ planned the whole trip with ISA.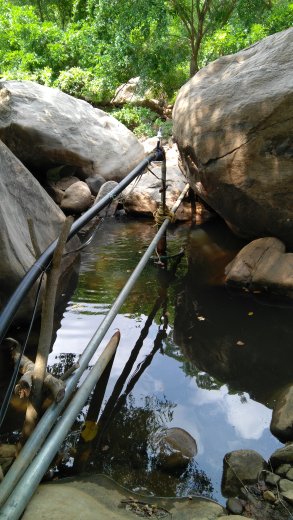 Attappadi is a cluster of several village hamlets that are located close to the Headwaters of the Beautiful River Bhavani, nestled below the enchanting Nilgiris of the Western Ghats. Very little rain is received in most parts of Attappadi compared to the rest of God's Own Country.  Things are not that worse I believe. I could find perennial streams irrigate the land. The population consists of natives [tribals like Kurumbas, Irulas, Mudugas]  and lot of Tamils and Keralites who migrated from their respective places. There are several hamlets here and we had planned to visit Mele Mully and Kele Mully. Apart from Agriculture, tourism also contributes to the local economy of Attappadi in a very small way. 
           The whole idea of our visit was to meet people. Pradeep and ISA had fixed meetings with a few farmers, mostly first time into their venture. We also wanted to ensure that we met individuals who were keen to interact. I must tell you, the response from those who turned up, was quite positive and gives me a hope for a lot of constructive change. First we met around 30 people in Kele Mully, one of the tribal hamlets there. The restrictions imposed by the Indian Forest Act has made life difficult for these people who have no fancy concepts about life on this Planet. I feel, that we need serious study on the impact created by legislation in our country. People who have lived all through their lives in the forest, depending and safeguarding its resources, are denied access to their habitat one fine morning! This skit enacted by the tribals in Deogargh, Jharkhand on deforestation during my visit emphasis this well. How can we expect them to adapt to 'development' when their very existence is being threatened?  I have observed this in various parts of India be it Jharkhand, Chhattisgarh, Rajasthan, Tamil Nadu or Madhya Pradesh, and now in Kerala. I appreciate the initiatives that several individuals and organisations have taken so far to support the natives here, but how productive has the results been? I am yet to find out my answers.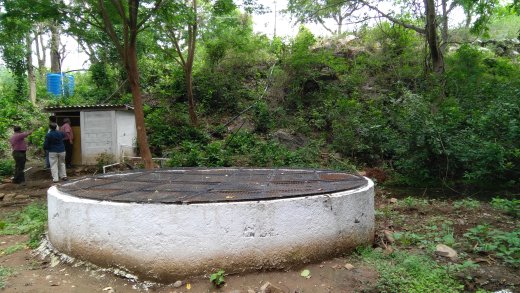 Since we have our specific areas of interest, we first examined the simple irrigation system there. The team of experts from ISA and Nabard has taken Herculean efforts and they seem to be working fine. The farmers grow banana, turmeric, thinai (foxtail millet), cow pea (Karumani) etc. Pradeep was thrilled to find some really good samples too! Wild honey, gooseberry, herbs, farmers producing organic food, good air and unpolluted water- that defines how good life is in Attappadi. Then, what's wrong?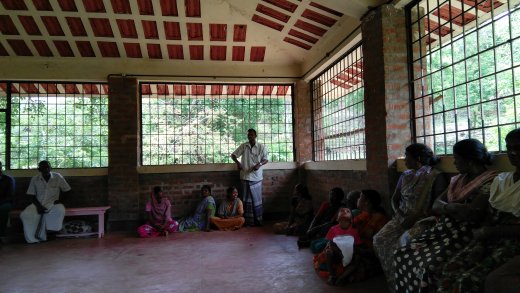 "We work hard and we love it. Each harvest is a joyful experience. We do not want to loose this. But, we feel that the reputation and remuneration is no match for our efforts", Murugesan had very little hope about his livelihood when he explained the situation to us. To me, this was the usual scenario of any Indian agri-market. Dignity for labour and fair price for the produce has always been the challenge.
"Where are your children?", I asked the elders who were at the meeting as we  found no members of the young generation. The answers were disappointing. Free education schemes of the Government had helped most of the children complete schooling. Very few pursued and completed college education. Many of them were back home with arrears and little knowledge. They are least interested in joining their family at work. That they have seen the outside world, they yearn for it. But since they are not qualified, they roam around jobless! "My son is sitting at home for past 4 years. I do not know how to convince him to work", we found one of the mothers talk about her 25yr old son. If you ask me, this is the biggest challenge our society is facing at the moment. A huge young population who are educated but unemployable. And that's a lot of challenge.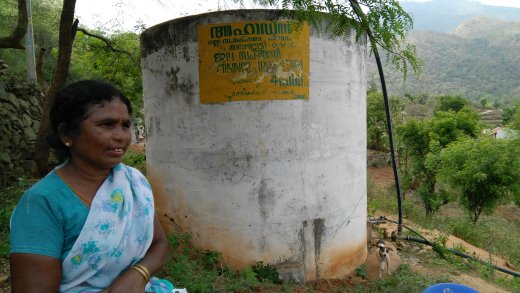 Vadugi is a very enterprising woman. She was one of the members at the meeting and soon after the discussions she invited us to visit her home. She offered boiled Kappa [ tapioca], a mouth-watering dish for any Keralite! We dropped by and she was eager to also explain how a water tank had changed her life for good. She grew vegetables with the help of that irrigation system. There are several enterprising women in the rural parts of India, and all they need is empowerment and hand-holding at the right moment.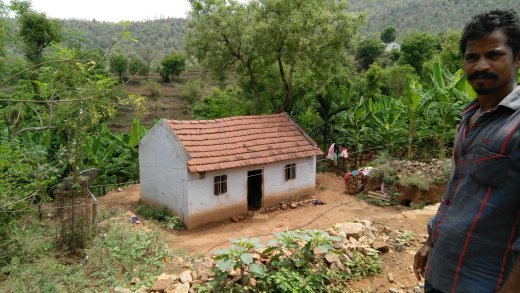 Then we continued our journey a few kilometers uphill to visit  Mela Mully. We met Rangan, who is trying his luck with farming for the first time. He used to work for daily wages and is now full time into farming after receiving support. He is cultivating bananas. I was amazed at his enthusiasm, he is even nurturing an apple tree in his farm. The villages of our country are such abundant resources of skilled labour who look forward to the society to appreciate their efforts.
We wound up our day promising ourselves to associate with these people. Pradeep visited them again and the good news is that, our team's visit has motivated some of the youngsters who therefore got in touch with Pradeep. We are proud, a few of them have already promised us to be "Agripreneurs". The cascading effect, I know will definitely improve the situation. Pradeep's FarmersFZ and Bangalore based Lumiere Organic (http://www.lumiere.co.in/) with practical know-how in organic farming and marketing [the produce], hopes to build a support system. Lumiere Organic has started it's first store in Thiruvananthapuram and converting its Huts restaurant in Cochin to Organic. I believe that humble beginnings and hard work will take this forward and I invite those who are willing to spend their time and intelligence, to associate with such initiatives.