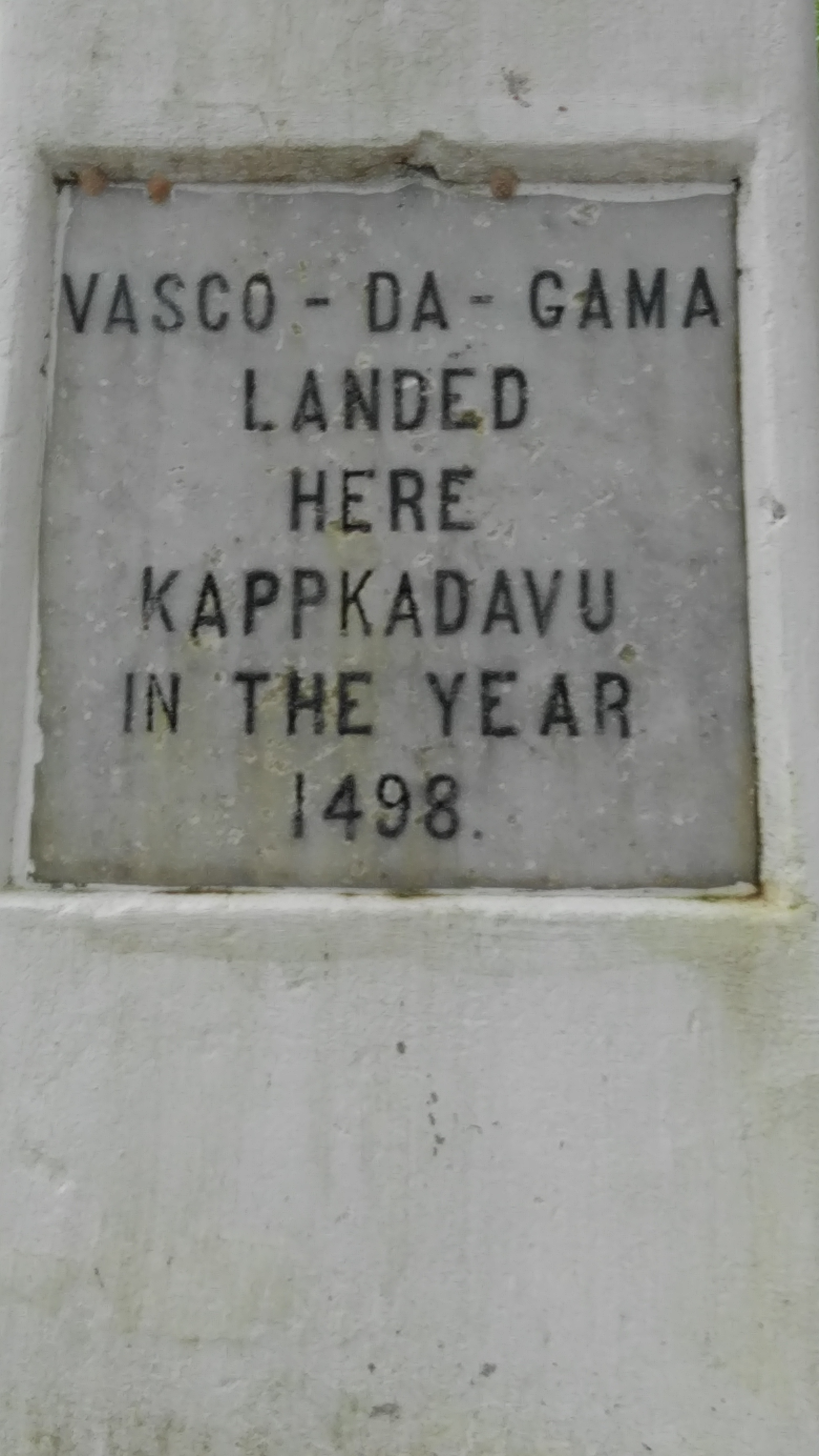 Kappad , 12 kilometers from Kozhikode a quite place that witnessed the historical event that changed the histroy of India forever – the place Vasco Da Gama landed in 1498. It was a mixed feeling visiting there on the way back from visiting Areacode (yes, it's how Ariakode is spelled)  an hour from Kozhikode with entrepreneur Shamil.
It was very sad to hear during my last visit to Kannur that the tender coconut is coming from Karnataka, since harvesting coconut is not economically viable as the daily wages have gone up, which is a great news. Around Rs.800 /day daily wages in Kerala is reaching developed state status! This provides great opportunities for entrepreneurs to bring technology to address this, as farmers are giving up on coconut. Shamil Salam, Mechanical Engineer Founder of Kenzon from Areacode has done exactly that. With his brother, they have designed a simple coconut climbing machine, which improves productivity as well as enables anyone to climb and harvest coconut.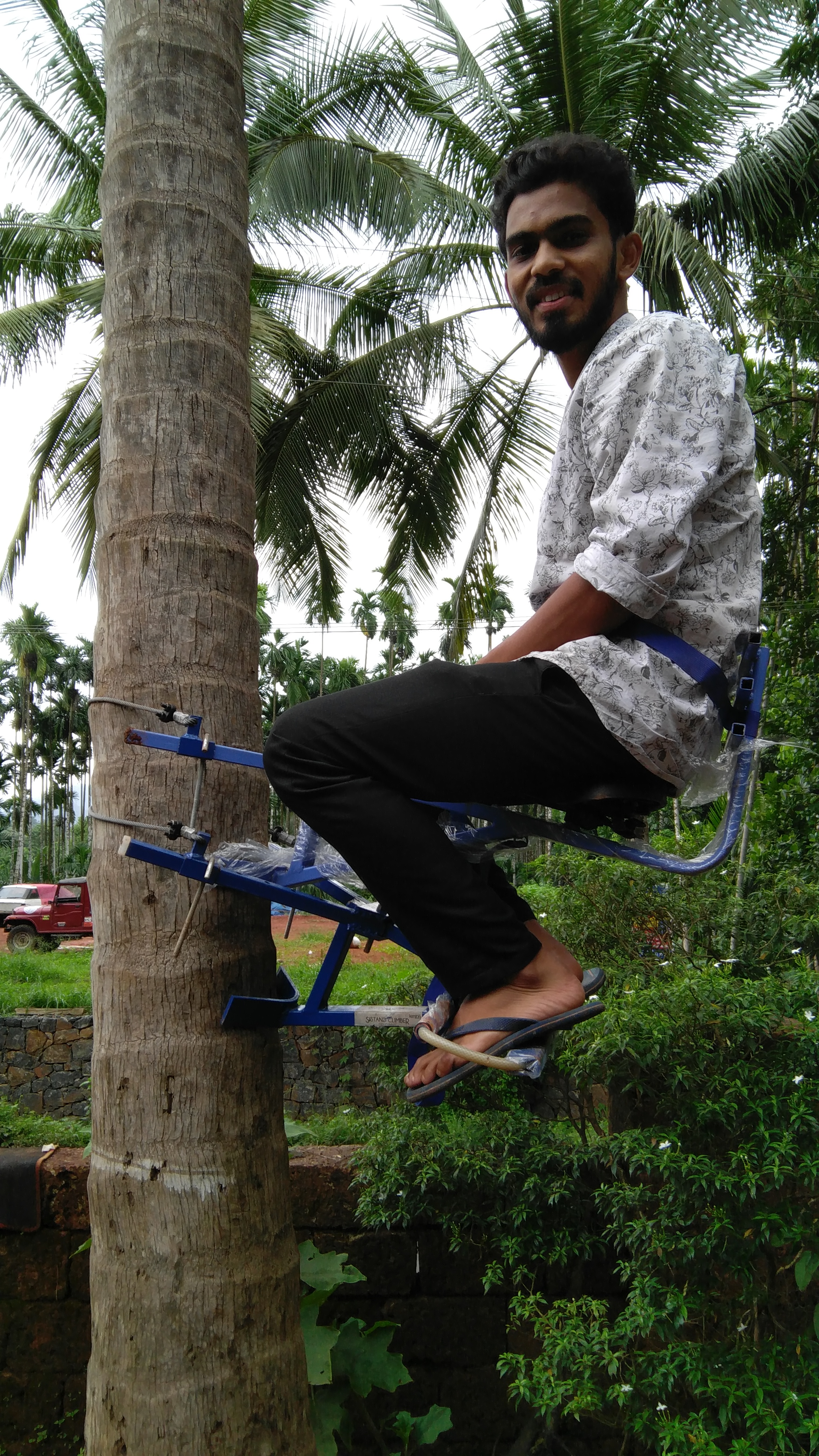 He has sold over 300 units and the design is very simple and affordable at Rs.2800 that is easy to carry. Shamil and brother duo already on it to create more products like Areca nut climbing and much more!
Statrup Kozhikode on Jul 6th organized by  Kerala State Industrial Development Corporation (KSIDC). Good to see the focus on more impactful ventures.
On June 10th, Greater Malabar Initiative (GMI) launched it's startup initiatives. Speech recording.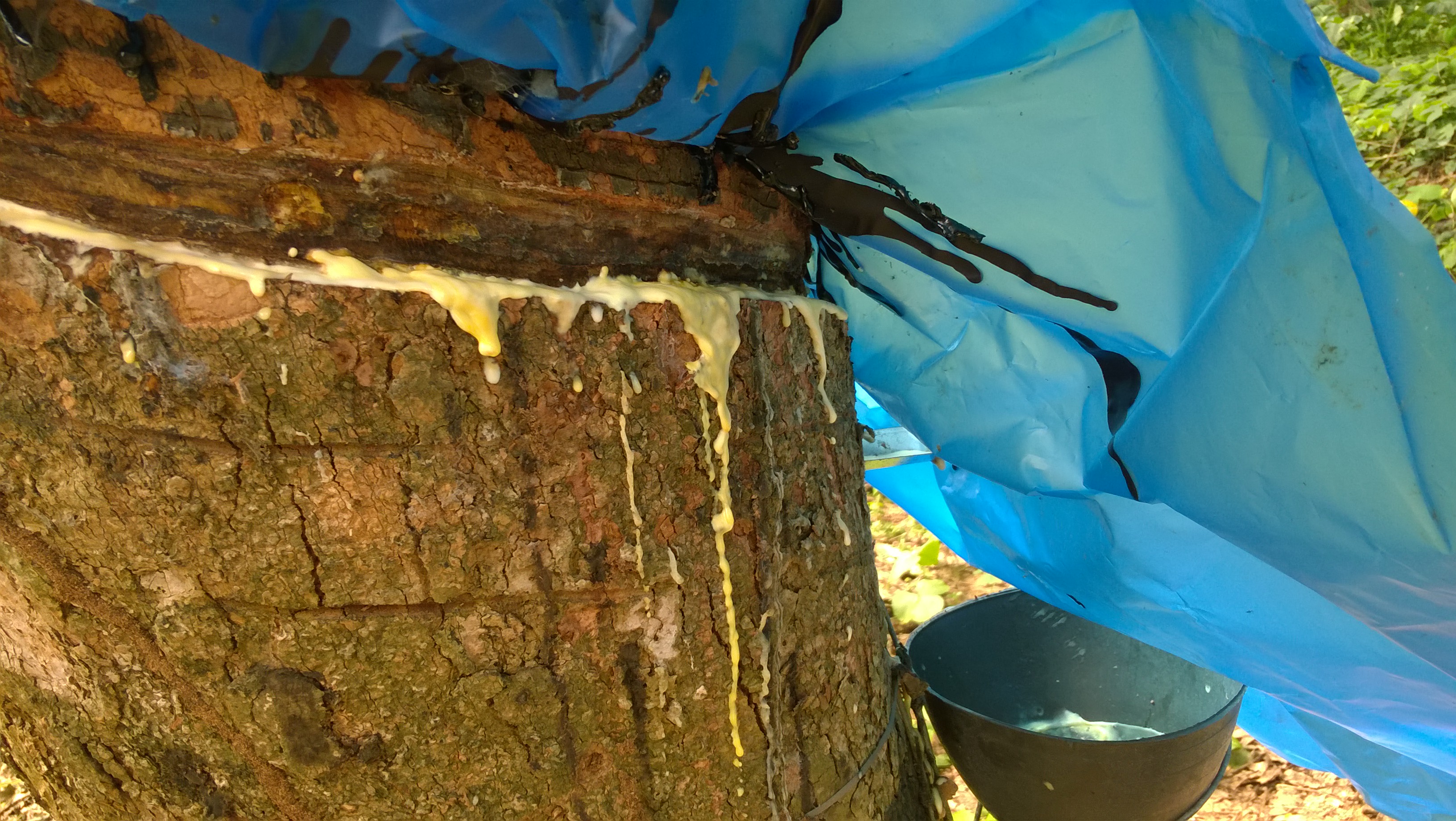 GMI focuses on bringing malabar region into tourism map with home stay, etc. We visited Rubber plantations near Kozhikode in the backdrop of beautiful Wayanad foothills.   Rubber plantations also provides plenty of opportunities for automating the cutting, collection processes. It is always good moving up in the value chain, as it protects the farmers from price volatility. There are entrepreneurial opportunists in value addition of rubber. It's important to create a local investor community that would support these entrepreneurs as they can connect with the problems better. Good discussions with few HNIs in Kozhikode around this.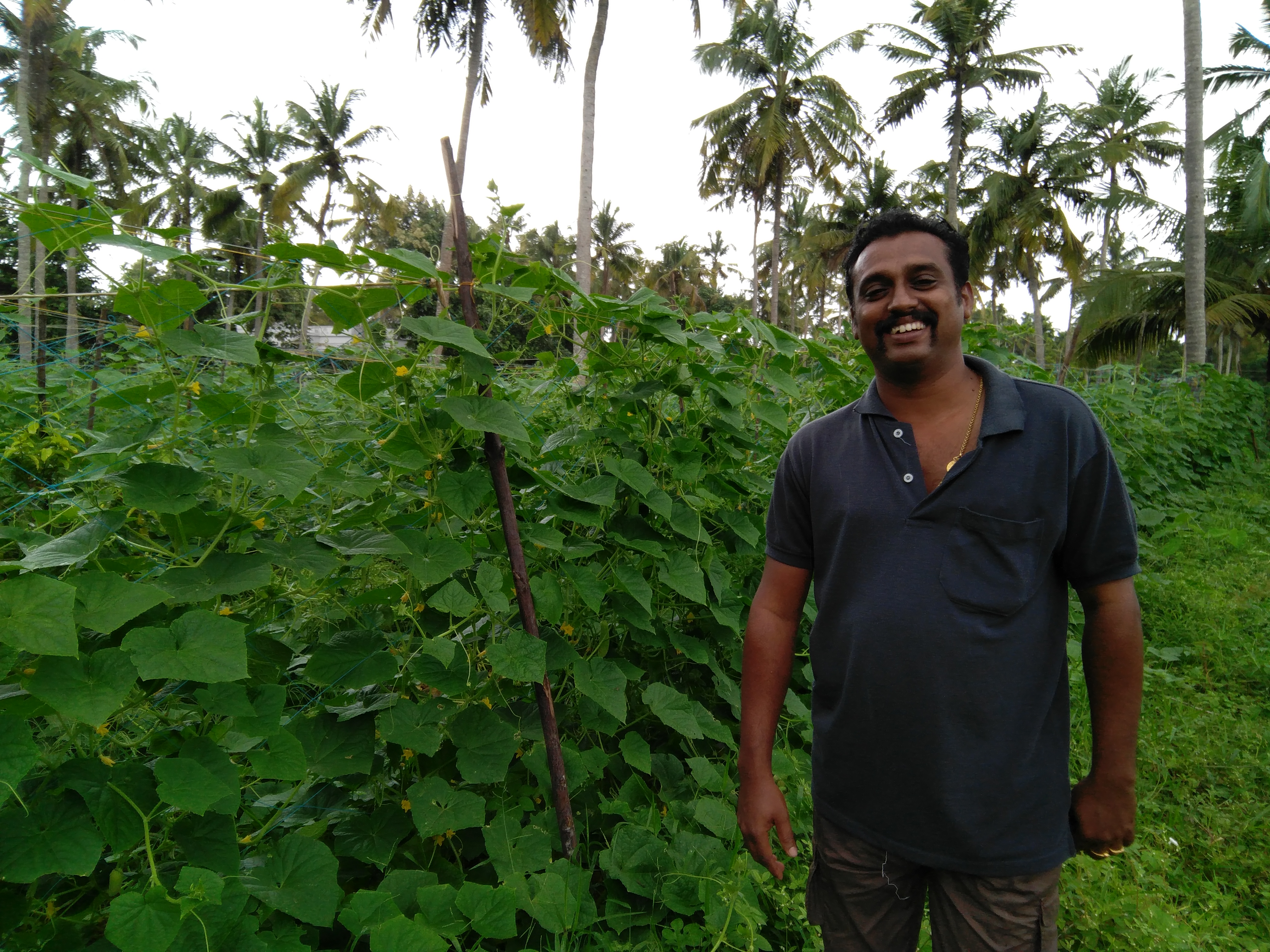 Irinjalakuda – train arrived at 6:30 AM welcomed by monsoon. Hailing from a rain shadow region of Tamil Nadu, never see this much rain – was joking to entrepreneurs in Kerala that just bottle the monsoon rain and sell it. With this much natural resources, I was told Kerala gets vegetables from outside – Irinjalakuda trip was all about that.
After visiting Kodakara, we proceeded to see this young farmer, Renjith Ravindran in Ashtamichira, Mala, Kerala. He leases the farmland and growing vegetables using safe to eat practices. Last summer he made a profit of 3 lakhs growing cucumber. Great to see few more younger farmers like Sreejith, Vijith. Joseph Pallan, ex-military man who seem to be the inspiration for some of them growing vegetables profitably since 1998. Joseph says when I asked for labor charges, I never hesitate to share my wealth by paying my farmers. They earn around Rs.800 /day and been with me more than 8 years. Whereas others use the migrant employees from Orissa, West Bengal, etc.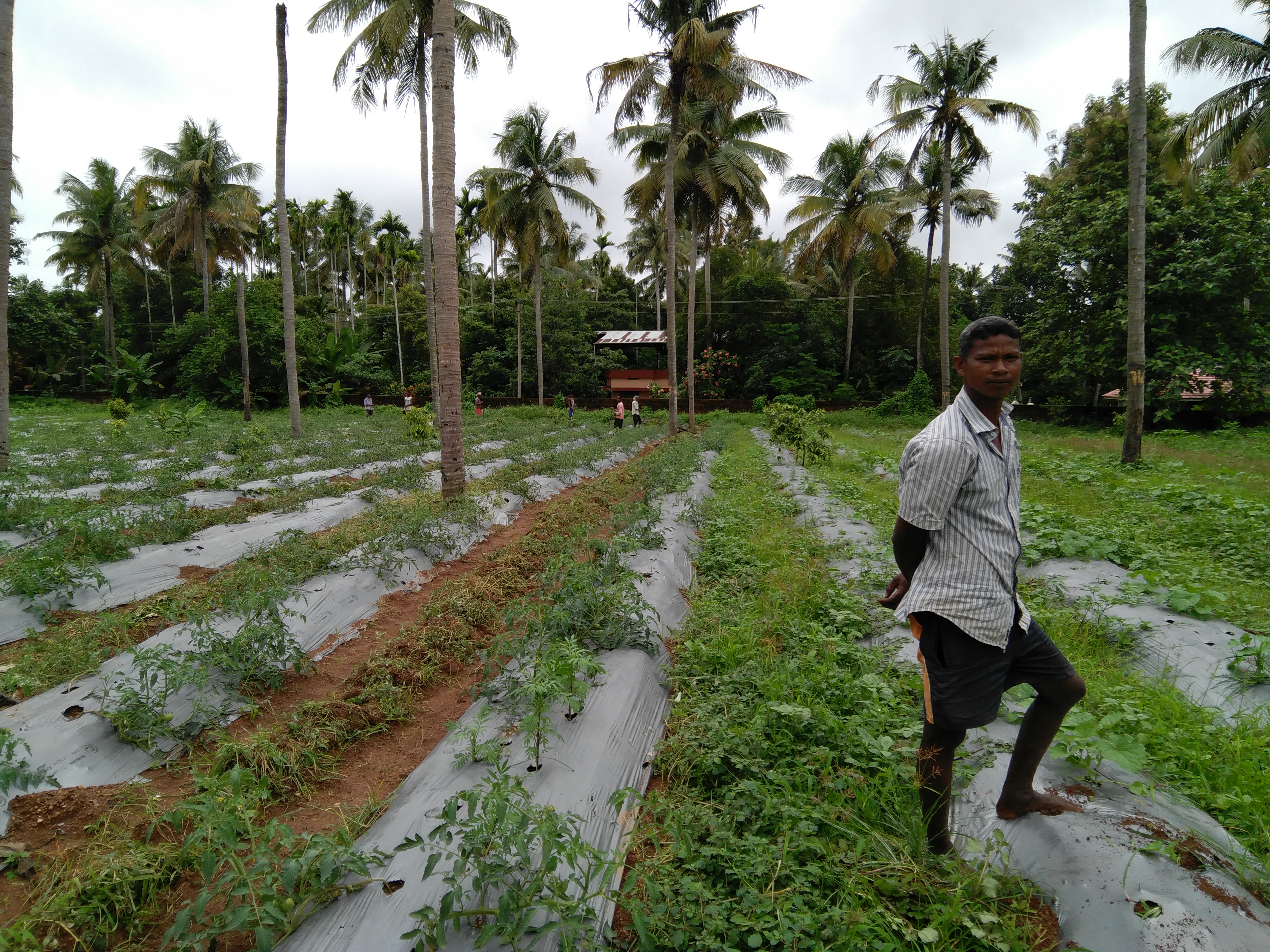 Alex, who is from Orissa says, He earns Rs.9000 /month and gets Rs.7000 after food deduction. Looking forward to going home during Christmas. For just Rs.7000 he is migrating. Economics is the man reason of migration in India, which is sad – one prosperous state is getting people at cheaper salary from another low income state. While Kerala is loosing it's people to Gulf, it gets from other states. Interesting cycle – How long this will continue?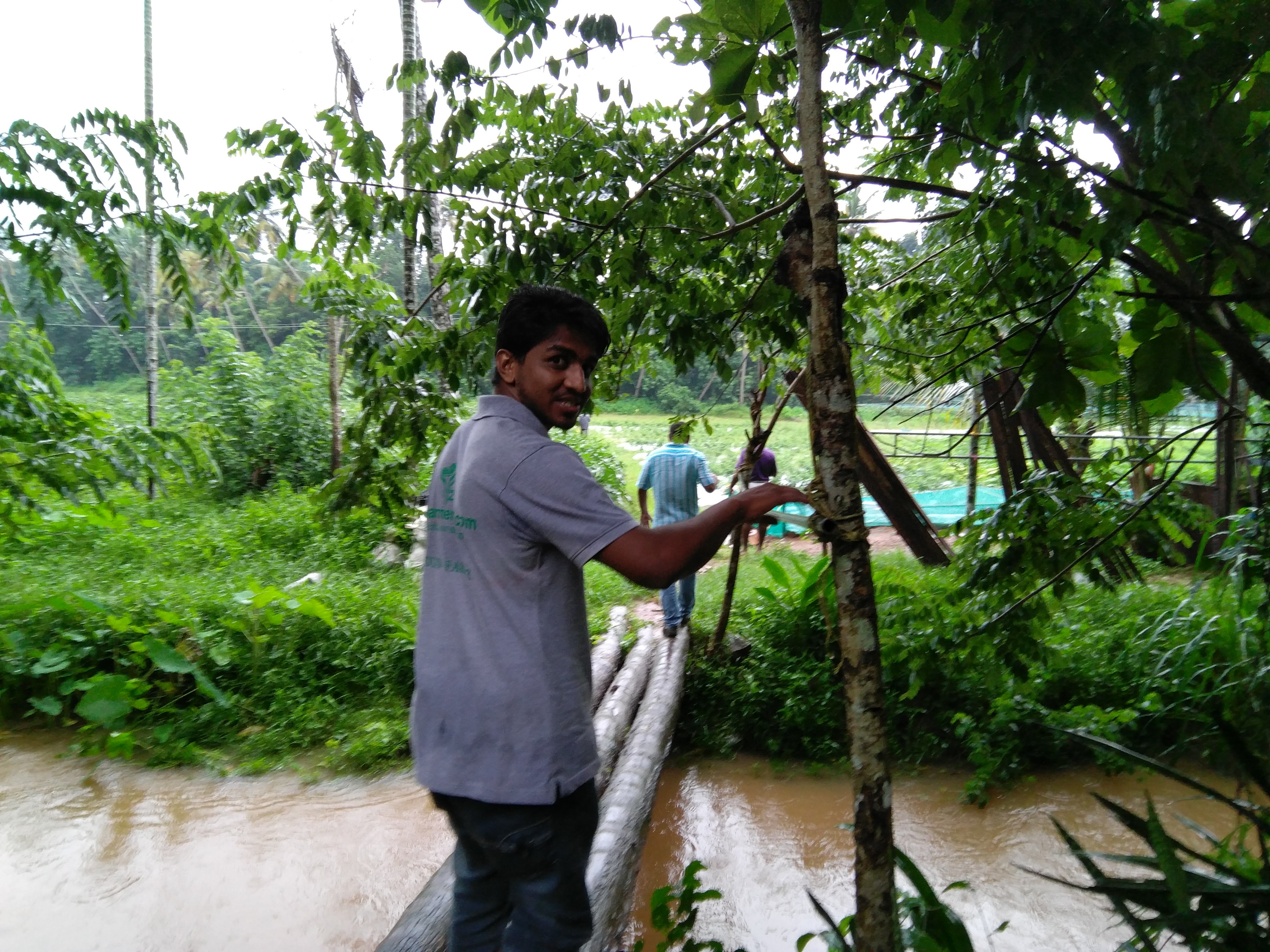 What is connecting all of these farmers is the young entrepreneur, Pradeep Punarka at FarmersFZ, who stays in his village in kadambode and procure these vegetables as per his customer needs in Cochin without any middle man, providing better price for farmers encouraging more younger generation into farming!
Entrepreneurs like these are the ones the country needs to get back to pre Vasco Da Gama' glory – economically prospering! Play on your strength!
Shamil Coconut Climbing Machine, Areacode, Kerala