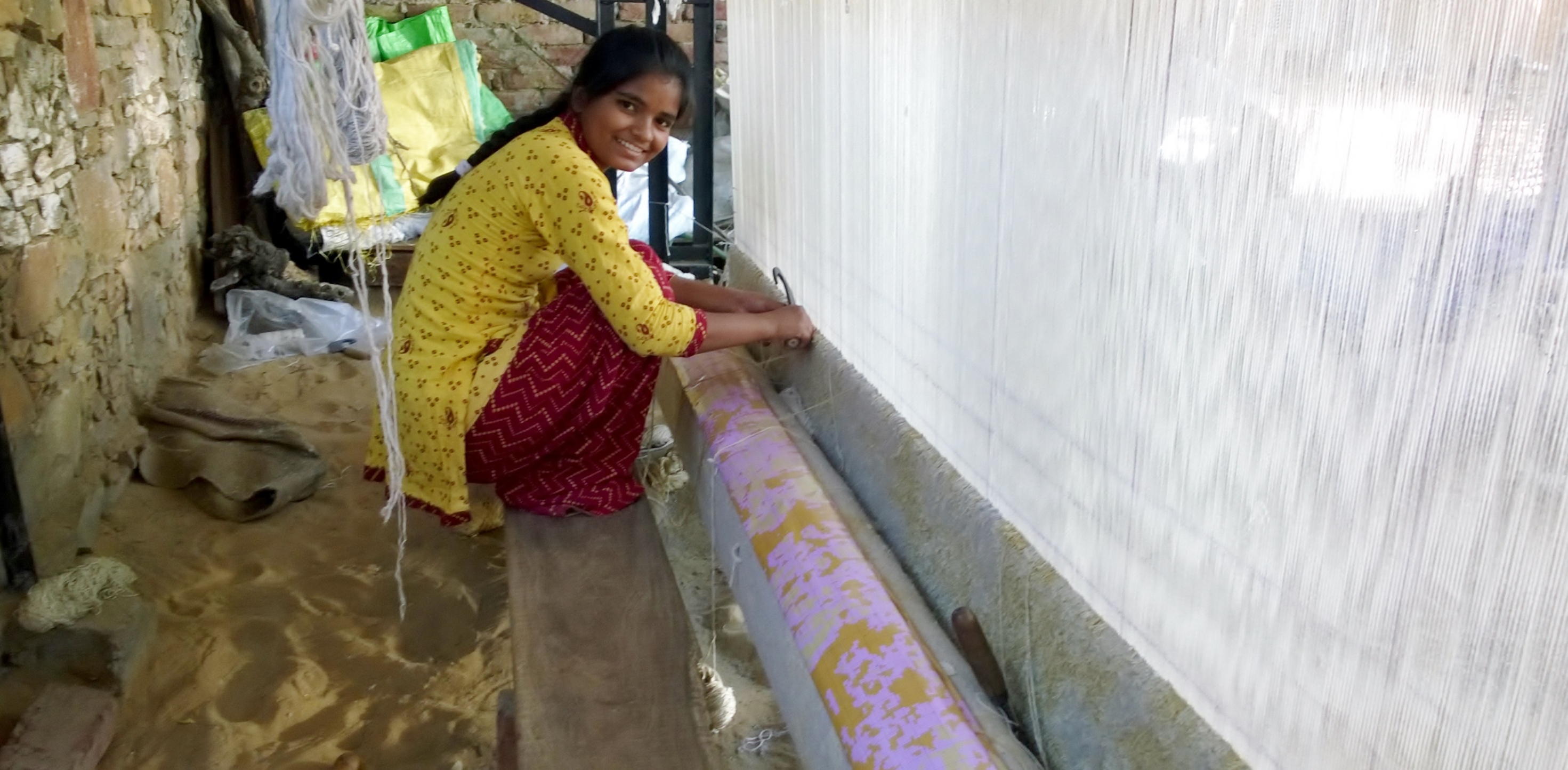 When I met this girl in her home at Achrol, Amber, Rajasthan. I've asked, why she is not studying, she said she couldn't afford to go to college as a day scholar, but she is studying in correspondence course, from the earnings she makes from knotting carpets. Carpet knotting is their tradition that they are doing it for years. Not able to sustain with this alone his father is doing construction work now. Typical scenario of every treasure that needs nourishing is disappearing.
This family of three women are knotting a 10′ x 10′ carpet together, put

Jaipur Rugs – 2 daughters and mother working on a rug. They are doing 8×8 knot. It takes a month for them to produce one.

ting 8×8 knots an inch, which makes the design more sharper. It takes them a month to make this carpet.

What is common in all these women, Jaipur Rugs. Jaipur Rugs is working hard to revive this tradition that is being lost. They provide the loom and to in their home, so these women are able to handle the household chores and knotting at their convenience.

How to get more value for this great efforts, Jaipur Rugs is trying an approach where they are making these women to design their own carpet. In one such effort few women working on the same car

Jaipur Rugs – Antar – award winning design by weavers

pet tried different designs on disagreement. Jaipur Rugs called it as "Project Error" – Antar – Differences and guess what, this design has been nominated for German Design Awards competing with BMW, Bentley, Audi, Benz designers and they won a "Special Mention" along with Audi, BMW designers!

This is what social enterprise is all about, find a problem and solve it. Salute to Nand Kishore Choudary, who always with a smile explained how he diligently changing the hand-knotted carpet space across the world exporting to 40 countries supporting 40,000 artisans. One thing he is very particular about is the appreciation he has for the crafts person, the wisdom they possesses and skill they have, that's why he is turning to them for designs now. Every employ in Jaipur Rugs need to learn know how to knot – there is a loom in the corporate office for them to practice !