Recently watched a movie with family and amazed to see a movie that cared (about you and society) in many years and can be watched with the entire family – 36 Vayathinile (Tamil version of Malayalam movie "How Old Are You?") with english sub-titles.
The plot is around "Who decides the expiry date of a woman's dream?". Every aspiring women entrepreneur should watch along with their better half. It's interesting the movie brought out other important issue of pesticides in vegetables and what they do to make the vegetables beautiful. If you come out frustrated about vegetable situation, join "Ooota from Thotta" in Bangalore or order organic vegetables at  Lumiere Organic  that delivers Organic Groceries/Vegetables all over Bangalore.
Recently a person bought bananas from Lumiere and complained that bananas' weren't ripen when it arrived. We started worrying about cosmetics appeal of our vegetables than the nutritional effect. What happens to bananas normally – the about to ripe bananas comes to mandi and fumed to get it ripen so the last mile vendors picks up the ripen ones to sell. Because it's tough to get the bananas ripe in the tree, pluck and transport, they have to do it. At Lumiere about to ripen bananas are sold, so you let it ripe at your home and eat without the effect of chemicals.
What the customer wants, the market gives, the customer need to be aware and support more organic farmers, so we all can eat nutrients of the vegetables not the chemicals!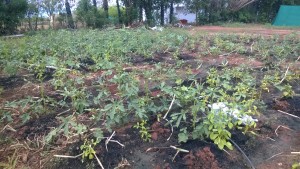 Salute to all the entrepreneurs who are solving this grave issue – Manju of Lumiere, Bala of SAAL, Rajiv of Freshworld, Yogi of Krishi Organic, Siddi of Parvatha, Mishra of eKutir, Kaigal team at Valley School, Varsha of GarderingRedefined, Poonam of DailyDump, Friends at Oota from Thota.
If you also want to join them and become an Agri Entrepruere apply CIIE' Agri Accelerator
All the aspiring women entrepreneurs watch what NSRCEL. IIMB WEs have to say in NDTV.
Vaadi Rasathi!