Truly an honor spending time with Nobel laureate Prof. Muhammad Yunus at Yunus Center, Dhaka. It was a great discussion on various topics. Very humble for a man who created a revolution.  Very curios listening/learning on various issues around. At the age of 76, he is keep coming up with news ideas and models.
His new book on "Super Happiness" – Super Happiness is making other people happy. The book is a pretty good collection of his speeches, thoughts.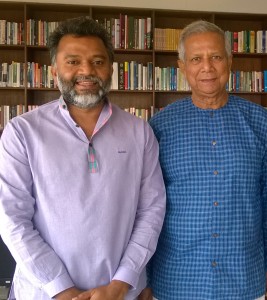 Social Business: Social business has a great potential to get many people out of poverty.
Social Business Fund: YSB provides financing to the most promising social businesses. It's an equity model without exit pressure, where the SB buys back the investor equity.
Social Business Design Labs: The Yunus Centre Social Business Design Lab is a meeting place for the people of diverse backgrounds having only one goal – developing social business for the betterment of society
Social Business:
Social business, as the term had once been commonly used, was first defined by Nobel Peace Prize laureate Prof. Muhammad Yunus and is described in his books Creating a world without poverty—Social Business and the future of capitalism and Building Social Business—The new kind of capitalism that serves humanity's most pressing needs. In these books, Yunus defined a Social Business a business:
Created and designed to address a social problem
A non-loss, non-dividend company, i.e. It is financially self-sustainable and
Profits realized by the business are reinvested in the business itself (or used to start other social businesses), with the aim of increasing social impact, for example expanding the company's reach, improving the products or services or in other ways subsidizing the social mission.
Unlike a profit-maximizing business, the prime aim of a Social Business is not to maximize profits (although generating profits is desired). Furthermore, business owners are not receiving any dividend out of the business profits, if any. On the other hand, unlike a non-profit, a Social Business is not dependent on donations or on private or public grants to survive and to operate, because, as any other business, it is self-sustainable. Furthermore, unlike a non-profit, where funds are spent only once on the field, funds in a Social Business are invested to increase and improve the business' operations on the field on an indefinite basis. Per Yunus' quote: "A charity dollar has only one life; a Social Business dollar can be invested over and over again."
Seven Principles of Social Business
| | | |
| --- | --- | --- |
| 1 | | Business objective will be to overcome poverty, or one or more problems (such as education, health, technology access, and environment) which threaten people and society; not profit maximization. |
| 2 | | Financial and economic sustainability |
| 3 | | Investors get back their investment amount only. No dividend is given beyond investment money |
| 4 | | When investment amount is paid back, company profit stays with the company for expansion and improvement |
| 5 | | Gender sensitive and environmentally conscious |
| 6 | | Workforce gets market wage with better working conditions |
| 7 | | …Do it with joy |